Halyard Dental Podcast Series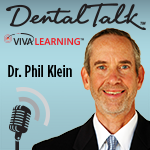 Series: Halyard Welcome to the Halyard series of VivaPodcasts. Top KOLs will address clinical techniques, new products and the latest research and development at Halyard.
---
All Episodes:
Aerosols in Dentistry: The Continuing Story of Respiratory Protection
CE Credits: 0.25 CEU
Release Date: 8/10/2021
Dental podcast: Welcome to DentalTalk. I'm Dr. Phil Klein. All through the pandemic dental professionals have struggled with the issue of exposure to airborne infectious disease. Supplies of surgical masks and respirators have been in short supply and guidance from regulatory agencies, such as OSHA and the CDC, have been, to say the least, a bit confusing at times. To help us better understand the latest OSHA regulations and CDC guidance for respiratory protection during aerosol-generating procedures is Mary Govoni. Mary is an internationally recognized speaker, author, and consultant. She has a Masters in Business Administration, and is a RDH and CDA.